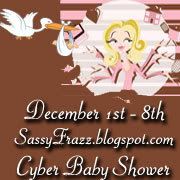 My friend Sarah is having a cyber baby shower for her baby due in January! It ends on 12/8, so if you want, please hop over and join in the fun! :) There are some cute games and you can win some neat prizes! Please see her post for more info! Fun stuff! :)
One of the games asks guests to post a pic of the sweetest pic of Daddy and newborn... Here is Seth holding Ruby, our youngest. She was pretty sleepy!
Another game asks us to guess her son Caleb's birth weight... oh boy. I am not good at this. I am going to guess he was 8 lbs 12 oz. (that is how much I weighed at birth!)
And finally, we are supposed to create a Play-doh figure of a baby or pregnant woman, take a picture, and post here. This cracks me up!
Here is my best attempt in the 15 minutes I had while my kids weren't fighting over toy dishes in the other room... Blue is the only color I had that wasn't all dried out! Also, I see a bit of reddish swirled in. How anyone can keep the colors all separated is beyond me! :) Ethan did help a little bit, but lost interest pretty quickly. (I think he wanted to make something other than a baby or pregnant woman!)
So there is my contribution. Better late than never! :)

Best wishes to you and your family, Sarah!!